In honour of Global Tiger Day (July 29), learn about the 4 countries where tiger numbers are growing, and the people making a difference.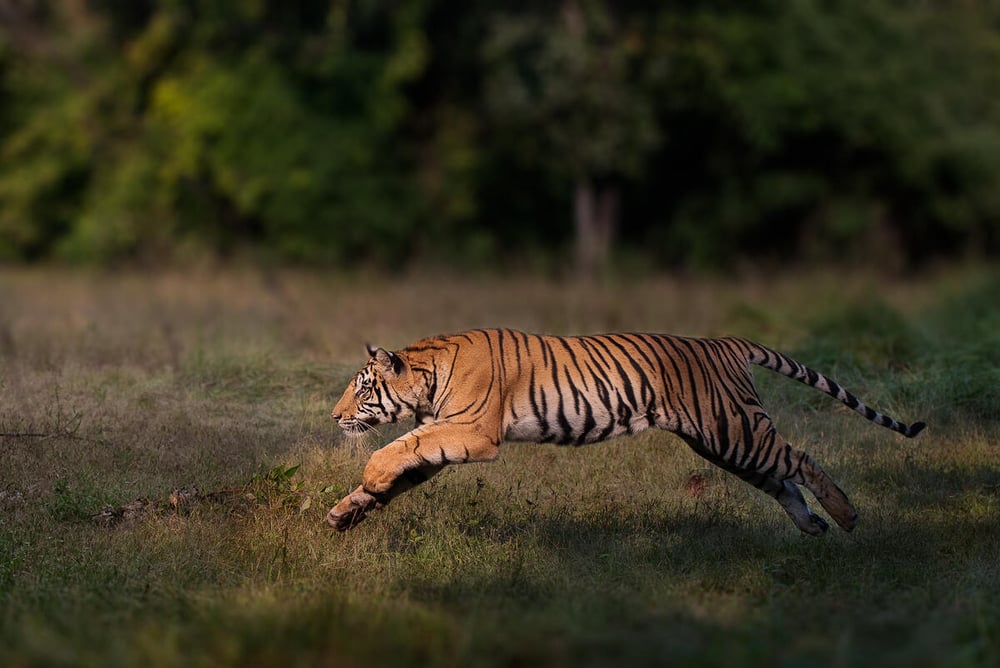 Above: A male Bengal tiger (Panthera tigris tigris) leaping in Bandhavgarh National Park, India. (© Nitish Madan / WWF-International)


Think of a tiger. What do you see?

Fire red and dense black stripes, a predator's shadow hidden out of sight? A cultural icon, a symbol of power? The character of the book you read as a child, the pattern on your shirt, an endangered animal.

The tiger is all of these things, and so much more to many. But even for those without a personal connection to this elusive big cat, the world as we know it would fall apart if tigers disappeared. As a keystone species, without them, entire ecosystems could collapse. Without them, countless other species could vanish forever. Without them, we could lose some of the forests that give us the very air we breathe, and the watersheds that bring us clean water to drink.

In 2010, the decision was made: a world without tigers was not an option. They had been pushed to the brink of extinction and their numbers were at an all time low. It was time to act.

That year marked the beginning of one of the biggest single species conservation commitments in history: to double the global wild tiger population by 2022, an initiative that became known as TX2. Governments, communities, organisations and businesses came together to secure the future of our planet's most iconic big cat. To save them, and to save ourselves and our planet.

That was ten years ago. Since then, we have bent the curve. In 2016, for the first time in recent history tiger numbers were on the rise. The mighty tiger was making a comeback.

Although their future is far from certain - in Southeast Asia a snaring crisis threatens to wipe out fragile populations - wild tigers are increasing in five countries: Bhutan, China, India, Nepal and Russia.

On Global Tiger Day 2020, we hear from individuals dedicated to tiger conservation, and from those who live alongside tigers. Without them, there would be no future for tigers on our planet and our collective future could be starkly different too.

Nepal : Doubling tigers and reaching new heights
In 2018, Nepal announced that the country's tiger population estimate had increased to 235, nearly doubling the baseline of 121 individuals in 2009. It was an historic moment, preceded by the announcement of an almost five-fold increase in tiger numbers in Bardia National Park; from 18 in 2008, to 87 in 2018.


Above: Citizen scientist Naresh Tharu poses for a photo (© WWF Nepal)


Naresh Tharu is a citizen scientist who lives on the periphery of Bardia National Park, and has witnessed the transformation of the forests, and surrounding localities, first hand.
"Now that the forests are prospering, so are the animals. The natural beauty of the area has led to many tourists from all over the world visiting this area to see tigers and other species. Bardia has become a tourist hub, and consequently provided many new economic opportunities for locals.."

👉 Read the full story: Nepal, doubling tigers and reaching new heights
👉 Read: How tigers bounced back in Bardia: an in-depth look

Bhutan: Where tigers are recovering in national parks both big and small
In Bhutan, another extraordinary tale of tiger recovery has been unfolding over the past decade. At the heart of this story is the Royal Manas National Park, where tigers more than doubled from 2010 to 2018.
Above: Ugyen Tshering, park manager for Bhutan's Jomotshangkha Wildlife Sanctuary, looks out over the forested landscape. (© Sonam Phuntsho / WWF-Bhutan.)


Ugyen Tshering is the government-employed park manager of a much smaller, but equally spectacular protected area: Jomotshangka Wildlife Sanctuary. There, a new tiger was photographed by camera traps at the end of 2019. It is the first additional tiger sighting in Jomotshangkha since the 2015 national census, and could indicate that tigers are using wildlife corridors to disperse west from Royal Manas National Park.

"In Bhutan tigers have a special place in our culture and society. They are considered to be godly animals, and when I go to the communities to talk to people they are proud to say 'a tiger has visited my forest!'"

More than just a source of pride, Ugyen explains that protecting tigers means protecting the communities they share their home with.
"When we have a healthy forest, then we are also protected from landslides and erosion. This is important, because Bhutan is located in a fragile ecosystem where landslides and erosion are very common."

👉 Read the full story: Where tigers are recovering in national parks both big and small
India: Looking to the past to secure the future
India's story of tiger recovery is one of astonishing success. Since 2006 the population estimate has more than doubled, to between 2,600 and 3,350 individuals according to the latest estimate from the Wildlife Institute of India. That number constitutes roughly three-quarters of the world's population.
But as well as being home to the majority of the world's tigers, India is also home to 1.3 billion people. Tiger landscapes are intertwined with those inhabited by people, making communities a cornerstone of tiger conservation efforts. Through our work with the communities we are reminded that it is traditional knowledge and practices that can help secure the future for tigers.


Above: Balan, belonging to the Urali tribe in Sathyamangalam, is the secretary of Talavady Adhivasigal Munnetra Sangham, working for the welfare and rights of tribal people. (© Steffan Ajay/ WWF India)

Balan belongs to the Urali tribe, who have been living in the Sathyamangalam forests for generations, coexisting with wildlife. In the early 2000s, Sathyamangalam's tigers were reported to be near extinction, but today the reserve supports nearly 50 adult and young tigers, and they are increasingly dispersing into surrounding habitats.
"As fishermen are dependent on the sea, we are dependent on the forest for all our needs," says Balan, who is also part of a community-based organisation that advocates for traditional practices to be integrated into conservation efforts.
"We harvest forest produce in a sustainable way, and in doing so we help ensure the health of the forest," Balan says. "If the traditional knowledge and practices of the tribal people are applied in conservation, the outcomes will be positive."
👉 Read the full story: Looking to the past to secure the future
China: Where tigers are returning
In 2010 there were no more than 20 wild tigers in China. But thanks to significant conservation effort and transboundary collaboration with Russia, tigers here are starting to breed and disperse.
Government and community rangers play a crucial role in protecting tiger habitats. Gathering data and deterring poaching and illegal logging, they act as the eyes and ears of the forest.


Above: Qui Shi, a member of China's only all-female patrol team on patrol on a cold day in Heilongjiang Province. (© WWF)

Qui Shi is a member of a patrol team for the Dongning Forestry Bureau in China. Uniquely, her team is the only all-female government patrol team in China's tiger range. Qui Shi has begun to notice positive changes in the landscape thanks to conservation efforts. She and her team are proud of the work they do.

"We live beside the forest, regarding it as a companion, and I encourage my family to pay attention to the harmonious coexistence of humans and nature, and to care consciously about wildlife."
It is a sentiment that has been passed down through generations; many of the patrol team members' fathers and grandfathers also worked in the forests.
The tigers' return to her homeland holds particular significance. "As a keystone species, tigers represent to me that my work is meaningful," she explains.
👉 Read the full story: Where tigers are returning to their historic range