Montreal's courthouse, Palais de Justice, is playing host to a spectacular light projection spelling out an unmissable message to the leaders, delegates and decision-makers attending the UN biodiversity conference (COP15): all eyes are on them!
The COP15 talks, which begin today in Montreal, are a once in a decade opportunity to change the tide on nature loss. The hope is that countries attending the conference will agree on and commit to a Global Biodiversity Framework (similar to climate's Paris Agreement) that would work toward reversing nature loss by 2030.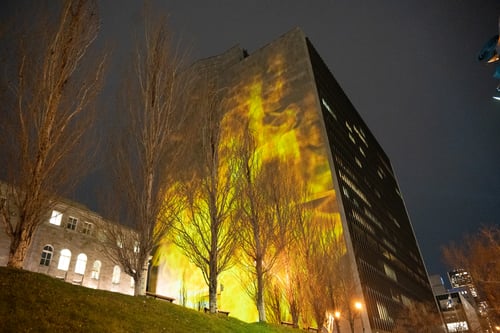 The projection - taking place in the centre of Montreal - makes a bold statement on the doorstep of the event itself. The specially-curated imagery demonstrates the extent to which nature has been degraded, much of which has been caused by unsustainable human activities such as over-exploitation, pollution and land use change.
Lin Li, Senior Director for Global Policy and Advocacy at WWF, said of the event:
"We need to see governments refocus their time and efforts on the most critical issues. We need clean, simple options with the ambitions that people and the planet need."
The unmissable 60ft high message hammers that sentiment home; making it unmistakably clear how big the public demand for urgent and decisive action is.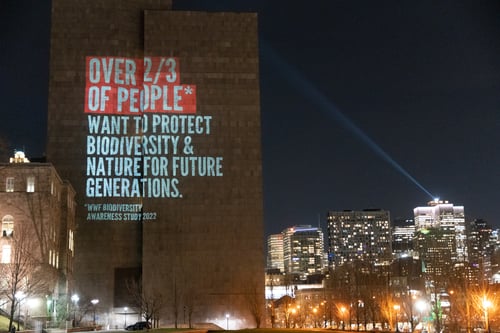 The projections will run again from 17:00 - 23:00 local time on 6th and 7th December.
WWF worked with the Creative Agency "Rooftop" based in South Africa to deliver this high impact piece. Special thanks to Montreal en Histoires and Elevation-IT for making the projections possible.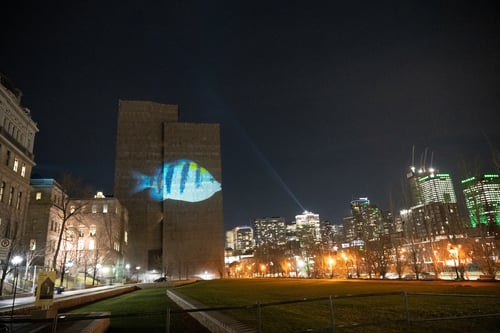 Read more:
COP15: What it is and why it matters?
Strong biodiversity agreement must follow climate inaction