The images coming out of the Amazon are terrifying. Major cities have been plunged into darkness by thick smoke as large swaths of forests burn relentlessly. The fires are consuming important areas of forest in the Brazilian and Bolivian Amazon, and in other important ecosystems.
The Amazon rainforest is the largest in the world and provides numerous ecological services, such as oxygen, not only for local communities but for the entire world. It is also the biggest deforestation front in the world, with over 20% already cleared.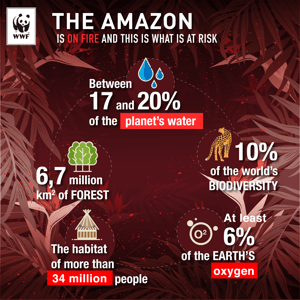 As forests burn, the fragile ecological processes that have been refined over millions of years erode.
Almost 73,000 fires have been recorded in the Amazon rainforest already this year – 70% more fires than were seen in the whole of 2018. Land is cleared and prepared for agriculture through fires, but not normally at this intensity. The current dry season also contributes to the rapid spread of these fires.
We need urgent action to protect the iconic Amazon, for the invaluable ecosystems, communities and biodiversity it sustains. The trees in the Amazon contain up to 140 billion tonnes of carbon. That's the equivalent of what humans produce in 100 years. It is also home to 1 in 10 known wildlife species on Earth. Put simply, there's no way we can fight the climate crisis or reverse wildlife loss without stopping the destruction of our forests.
What can you do?
1. Add your voice for the planet
We're losing nature at an incredible rate, worsening the effects of disasters like the Amazon fires. People around the world are calling for urgent action to protect our planet, our only home. Join them, and be a voice for the planet.
2. Share the news
Share updates in social media and in your personal networks to raise awareness about the devastating impacts of the Amazon forest fires. Educate your family and friends about the importance of the Amazon, which contains over a third of the world's remaining rainforest.
3. Write to your policymakers
Deforestation in the Amazon affects the world, and it is critical to have integrated policies and concerted action across the region and beyond to influence positive change. Tell your government representatives to take action and enable policies that end large-scale deforestation in the Amazon.
4. Ask companies to go deforestation-free
Agriculture and cattle ranching is one of the leading causes of deforestation in the Amazon, as is unsustainable and illegal timber trade. And much of this is to support international demand. Become a discerning consumer and ask how your food and other purchases have been produced.
5. Support our work
Rainforest fires in the Amazon threaten endangered species like the jaguar and local and indigenous people who call the forest their home. We urgently need your help to tackle this problem.
.