The UN's climate science assessment body shows we have the solutions to limit global warming to 1.5°C, the point at which the most catastrophic impacts become inevitable. But time is fast running out to implement them.
A powerful new report from the UN Intergovernmental Panel on Climate Change (IPCC) shows how we can reduce harmful climate impacts and increase sustainable development by transforming sectors including energy, industry, agriculture and land-use, buildings and transport.
Dr Stephanie Roe, IPCC Lead Author and WWF Global Climate and Energy Lead Scientist, said: "Solutions are readily available across all sectors to more than halve emissions by 2030, in line with a 1.5°C pathway.
"Moreover, a low-carbon economy can create more jobs overall, and there are many mitigation options with economic, societal and environmental benefits."
For example, the report pinpoints hopeful signs for the renewable energy sector while recognizing that much more needs to be done to phase out fossil fuels.
It shows how the cost of clean energy technologies has dropped dramatically – by 55% for wind energy and by 85% for batteries and solar energy between 2010 and 2019. And their roll-out has accelerated too with, for example, a 10-fold increase in solar and a massive 100-fold increase in electric vehicles.
The report also confirms that protecting and restoring natural environments such as forests offer huge potential by absorbing and locking away carbon from the atmosphere.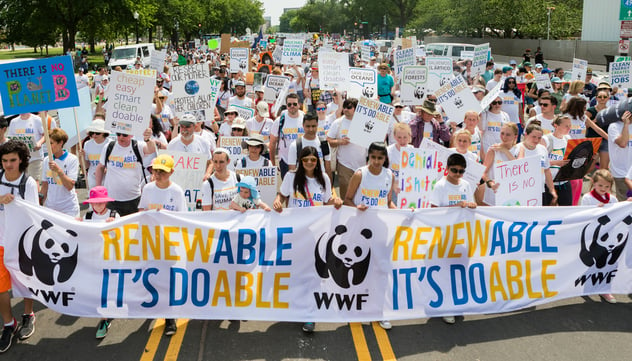 URGENT ACTION NEEDED
While recognizing that some parts of the world are already embracing these climate solutions, the report highlights how we're almost out of time to limit global warming to 1.5°C.
Greenhouse gas emissions between 2010 and 2019 were higher than any other decade in human history. And emissions continue to climb – driven primarily by polluting fossil fuels, which still power much of the world's energy systems, and from carbon released into the atmosphere when nature is destroyed.
Dr Stephen Cornelius, WWF Global Lead for IPCC, said: "We will miss the crucial goal of limiting global warming to 1.5°C unless we dramatically scale up climate solutions to rapidly cut greenhouse gas emissions.
"This means investing at scale in powering our societies more efficiently, using clean renewable energy, conserving and restoring nature, moving away from unsustainable business practices and leaving no one behind in this transition. Every moment, every policy, every investment, every decision matters to avoid further climate chaos."
YOU CAN…