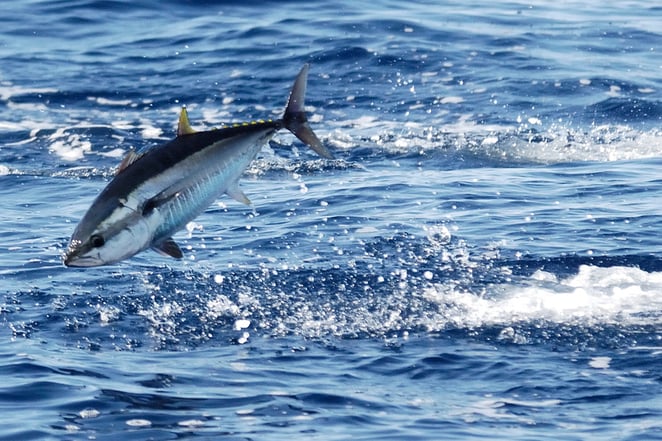 Tuna play important roles in ocean ecosystems, and overfishing harms ocean health – which is bad for the planet as a whole, says WWF Oceans Practice Leader Pepe Clarke.
Fifteen species of tuna are found across the ocean, and they are marine marvels – powerful predators, supremely adapted to their environment.
They undertake marathon migrations, but can also put on incredible bursts of speed, diving like a torpedo.
Atop the tuna ladder is the Atlantic bluefin tuna. Picture this: a fish as big as a boat (up to 3.75 metres), heavy as a horse (750+ kilograms) and faster than a greyhound (70+ kilometres an hour).
Imagine a shoal of these creatures, flashing blue-green and silver through the ocean. As they dive and surface, they mix the water column, bringing nutrients from the deep to the surface, which nourish other fish.
Atlantic bluefin tuna are a top predator and play an important role in maintaining balance in the marine environment by keeping populations of prey species in check.
The rise of overfishing
Fishing for bluefin in the Eastern Atlantic and Mediterranean intensified dramatically in the 1980s and '90s. With almost no limits in place, it was a free-for-all.
Spotter planes and speed boats were used to find the shoals.
More fishers meant more supply, so prices fell and fishing efforts increased. It was a disaster.
And then the crash happened.
By 1996, the Atlantic bluefin tuna was listed as endangered; in the Eastern Atlantic and Mediterranean, the population was down by 85% compared to 1950s levels.
When catch limits were finally introduced in the late '90s, they were still much too high to stem the decline, and lax monitoring or enforcement meant even these modest limits were of little use.
The drive for profit was driving the demise of the source of the profit – you can see the flaw in the logic.
Better late than never
Finally, in 2006 a set of management measures was agreed.
It included a significant reduction in fishing vessels, implementation of science-based catch limits, establishment of minimum sizes so juveniles wouldn't be caught before they could spawn, a ban on spotter planes, and deployment of observers on many vessels to monitor compliance.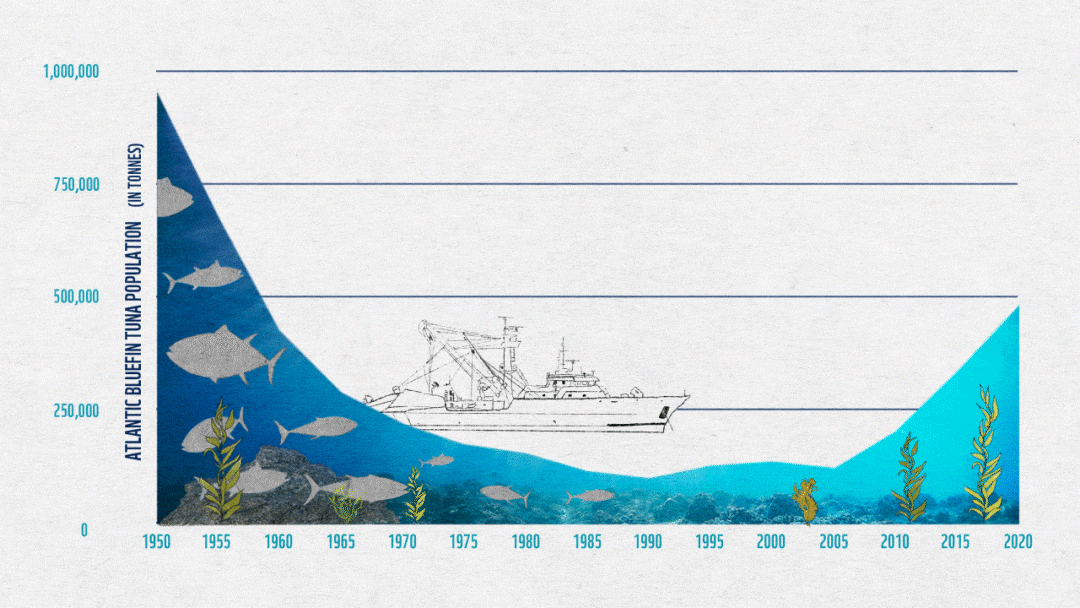 What is easily summarised years later was not easily achieved at the time.
It required compromise and commitment from groups with different interests: fishers, seafood retailers, governments, scientists, conservationists – even consumers.
People need to know where their fish is from and how it's caught, and make sensible choices about how often they consume it.
But with the participation of all those groups, the reforms worked.
Atlantic bluefin tuna populations have now largely recovered, with the population continuing to trend upward.
Last year, new rules were adopted that will increase or decrease catch limits in line with the status of the stocks, relieving management decisions from short-term political pressure.
This will contribute to more stable fisheries, markets and tuna populations.
It's a story of what's possible when we set our minds to sustaining and restoring the ocean's abundance.
Time to replicate
Even with this powerful example of how sustainable fisheries management can be developed and implemented, tuna management organisations in other parts of the world are resisting change and delaying taking similar measures – while their tuna populations decline to dangerous levels.
In the Indian Ocean, overfishing is driving a dramatic decline in yellowfin tuna, with the population declining by 50% in just 15 years between 2005 and 2020.
With yellowfin accounting for two-thirds of the region's tuna catch, overfishing is threatening the food security, health and well-being of small-scale fishers in developing countries who depend heavily on fish for their protein and vital micronutrients.
Overfishing also undermines the very viability of the commercial fishery – the same faulty, short-term logic that nearly caused the collapse of Atlantic bluefin tuna.
Conservation organisations, retailers and supply chain actors are calling for urgent action to reverse the decline of Indian Ocean yellowfin tuna.
The key ask for the Indian Ocean Tuna Commission meeting in May 2023 is to adopt a minimum 30% overall reduction of catches relative to 2020 levels and ensure these reductions are achieved.
Additional priorities include adopting robust management measures for fisheries aggregation devices and faster progress toward full transparency through electronic monitoring.
Tuna don't stop at borders, so countries need to work together on the needed reforms – and the sooner sustainable strategies are implemented, the greater their odds of success.
Over time, allowing tuna populations to recover will restore their important role in marine ecosystems, enhance their resilience to climate change and support sustainable fisheries over the long term.
See also
WWF sustainable seafood guides
New ocean treaty is landmark moment
More about our ocean work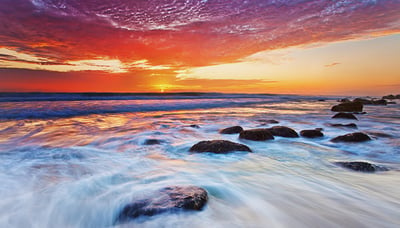 WWF works in partnership with communities, businesses and governments to restore ocean health for the benefit of people and nature