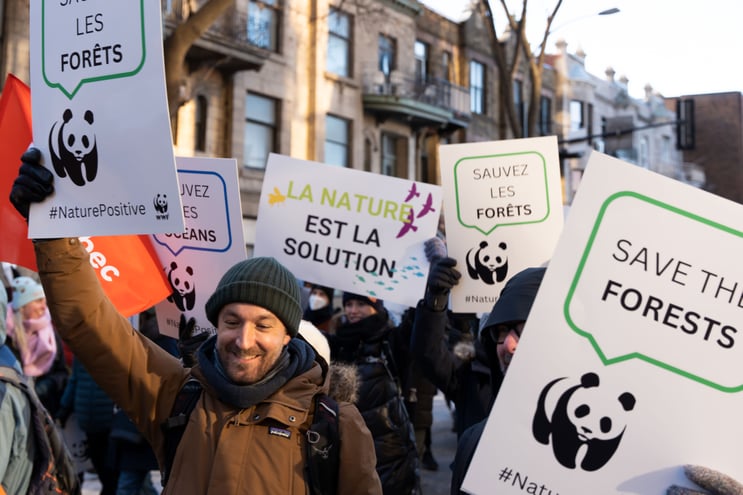 Leaders and decision makers are gathered in Montreal for the UN Biodiversity Conference (COP15), a once-in-a-decade opportunity to approve a historic global plan to protect and restore nature.
Approving this global plan - known as the global biodiversity framework (GBF) - is crucial, and would mean ending the decade with more nature, not less.
From the UN conference, delegates from the WWF discuss why now is the moment for countries to turn their commitments to action.
Marco Lambertini, Director General of WWF International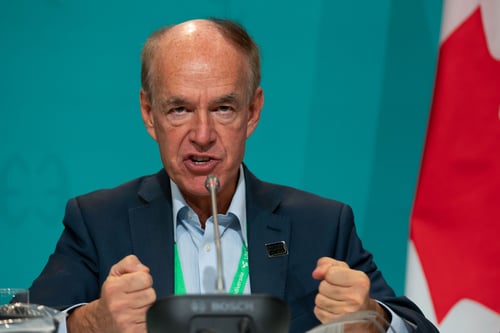 COP15 presents an unmissable opportunity for world leaders to be on the right side of history and start resetting our broken relationship with nature.
This can be achieved by adopting a global plan to halt and reverse nature loss by 2030 and build a nature-positive future.
Yet, while many are working hard and constructively, overall negotiators are still skirting around the periphery of the core issues and not reaching conclusions.
We've seen the pace slightly pick up more recently, but countries are running the risk of not leaving enough time to secure convergence on the key ingredients to an ambitious biodiversity agreement.
The longer you wait to address the main issues - including the mission, finance and a strong implementation mechanism - the greater risk of a low-ambition compromise. This is something people and nature cannot afford.
I want the youth of today to look back and consider the Montreal Agreement as the moment the world finally gave back to nature.
Laurent Some, Head of Policy and Partnerships, Africa, WWF International
Leaders have for far too long allowed money, and the lack of it, to be sticking points that threaten to derail biodiversity negotiations - today, there is still a gap of $700 billion annually required to secure a nature-positive future.
For any global plan for nature to succeed, rich nations that have long benefited economically from exploiting nature must step up finance for biodiversity while all countries need to consider and prioritize the opportunities from conservation and nature-positive livelihoods over business-as-usual practices.
The biodiversity-rich region of Africa, for instance, holds a quarter of the world's nature, and bears serious potential for nature-based solutions that support people and nature.
Africa provides an opportunity for just, transformative change that can prove economically advantageous for its people and help secure sustainable livelihoods.
But time is running short to make a difference - leaders have promised to secure an ambitious global biodiversity agreement so they must find common ground at COP15 to deliver or risk devastating consequences for people and nature. Failure is not an option.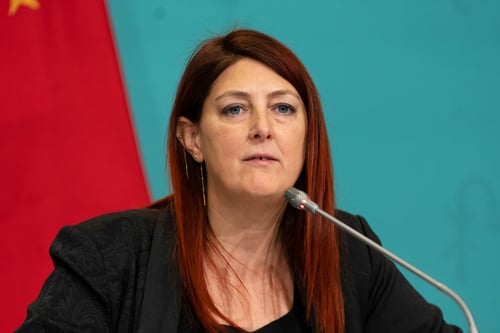 Bernadette Fischler Hooper, Head of International Advocacy, WWF-UK
It's easy for negotiators to get stuck in the weeds and be so fixated on words that no progress is made, but on a mission statement, we can't afford to be vague and ambiguous.
We need to clearly define goals in a way that can drive immediate action while also providing time-based accountability, galvanizing not only negotiators but also the public in rallying behind a common tangible aim.
And that is why this common aim – halting and reversing biodiversity loss by 2030 to achieve a nature-positive world – cannot be diluted.
Pepe Clarke, Oceans Practice Lead, WWF International
The ocean realm contains the biggest part of our planet's biosphere but is threatened by a whole host of human activities - pollution, unsustainable fishing, coastal habitat loss, and extractive industries to name a few.
The Global Biodiversity Framework needs to have the right targets and measures in place to secure a healthy marine and coastal ecosystem that contribute to food security for over three billion people, among other benefits.
So far, we've seen some progress around marine and coastal biodiversity - including agreeing language aiming to protect oceans from the impacts of deep seabed mining. We're however not out of deep water yet on this.
Governments must push for more time to discuss marine issues, as a crucial decision on the process for describing new areas as Ecologically or Biologically Significant Marine Areas has not been agreed, due to insufficient time allocation in negotiations.
Governments must ensure all relevant drivers, pressure and impacts on our oceans are appropriately addressed, for example by including language on an ecosystem approach in relevant fisheries targets to avoid overfishing, bycatch, impacts on marine ecosystems and illegal fishing of our oceans.
Florian Titze, Policy Advisor, International Biodiversity Policy, WWF Germany
Governments need to realize that in a world without biodiversity, there will be no wellbeing, health, prosperity or security for people - nor will our economic and financial systems be able to function.
What we need to see agreed at COP15 is a comprehensive resource mobilization strategy and that means finance from all sources - including public, private, domestic and international and minimizing investments that harm nature.
The bottom line is governments need to make sure that the policies they implement to protect nature with one hand are not being undone with the other - because more money alone will not be enough to halt and reverse nature loss to be nature positive by 2030.
This involves ensuring finance laws do not contribute to the destruction of nature via harmful subsidies and investment.
A strong increase of overseas development aid on biodiversity will be critical to agree on a deal at COP15. The 10-point plan launched in September is an excellent example of what a comprehensive approach could look like, and we need more countries supporting this.
Now is the time for shifting gears because we need to make progress on this fast, if we're to have any shot of securing a nature-positive world.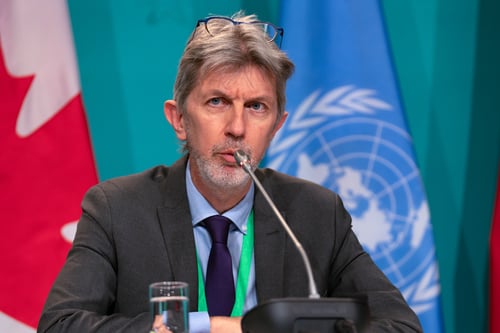 Guido Broekhoven, Head of Policy Research and Development, WWF International
Deforestation, bad agricultural practices along with opaque supply chains have long driven unprecedented biodiversity loss with many of these practices being egged on by a lack of rules that fail to attack the problems at the root cause.
The EU's groundbreaking law to stop deforestation is a historic moment and a bold initial step towards reversing unsustainable production and consumption in some of the world's highest consuming countries.
At COP15, we need leaders to build on this momentum and take an even bolder next step of including a commitment to halve the global footprint of production and consumption by 2030 in the Global Biodiversity Framework through a just transformation of productive sectors.
Read more:
COP15: What it is and why it matters?
Strong biodiversity agreement must follow climate inaction
What are nature-based solutions?