Swedish researchers supported by WWF have launched a citizen science project to learn more about the life of the common guillemot – known to many as the "penguin of the Baltic".
People from around the world are invited to view the live stream - broadcasting footage from cameras mounted at Stora Karlsö island - and contribute to the project by posting observations to the research team.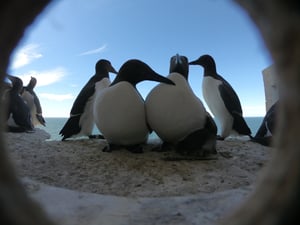 Over the next few weeks viewers following the broadcast can expect to see the chicks jump from the 40 metres high cliffs to the beach below – without even being able to fly!
More than a thousand interested viewers have posted observations, from egg laying to hatching.
The story of the common guillemots in Sweden is a positive one, as numbers continue to increase.
Decades ago, things were very different. Environmental toxins, oil spills and drift net fishing were taking a heavy toll on bird populations. Today, however, there are around 85,000 guillemots in the Baltic Sea.
Jonas Hentati Sundberg, researcher at the Baltic Seabird Project, said: "We are pleased that people can now get a direct insight into the world of the guillemots and post their observations. It will push research to new levels of understanding."
Visit the project, and contribute with your observations at: https://www.wwf.se/english/baltic-guillemots-live-stream/