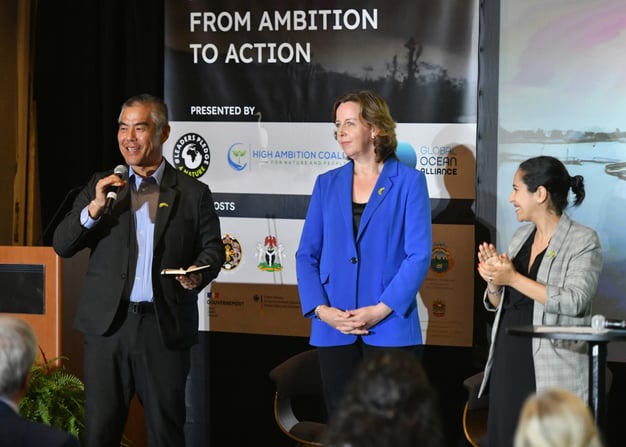 New initiatives and finance to tackle the biodiversity crisis are announced although more action is still urgently needed.
At a WWF-backed event alongside the UN General Assembly, world leaders and civil society representatives sent out a strong signal of unified determination to rapidly deliver on landmark nature agreements secured in the past year, including the historic Kunming-Montreal Global Biodiversity Framework and the High Seas Treaty.
The Kunming-Montreal agreement, which saw 196 states agree to halt and reverse biodiversity loss by 2030, was boosted by a number of announcements at the High-Level Event for Nature and People.
This included a €40 million German government contribution, which effectively sets up a new fund that should see billions of dollars flowing in future years to finance action for biodiversity recovery.
In addition, new commitments to protect the waters around New Caledonia (130,000 sq km) and Niue (127,000 sq km) were announced.
Among the other commitments, a major restoration project for over 1,100 sq km of marine ecosystems was announced by the island states of Comoros, St. Lucia and Vanuatu.
The Colombian government also committed US$80 million to grant social agreements for inclusive conservation and restoration in key deforested areas in the Amazon and to enhance Indigenous reserves management.
An Indigenous-led finance mechanism, called CLARIFI, received €5 million of new finance from the German government – a boost for the role of Indigenous Peoples and other communities in conservation decision-making.
Director General of WWF International Kirsten Schuijt, pictured above, also announced an investment of €40 million from the Dutch government into the Dutch Fund for Climate and Development (DFCD).
WWF is a partner in DFCD, which, so far, has mobilized over €1.3 billion for projects that will help secure climate-resilient livelihoods for up to 16 million people across Africa, Asia and Latin America.
Other highlights included the announcement of the Great People's Forest of the Eastern Himalayas, a partnership between the Balipara Foundation and Conservation International, which aims to raise a US$1 billion fund to plant one billion trees and protect and restore one million hectares by 2030.
While the new announcements are very welcome, leaders also highlighted the need for an urgent whole-of-society shift that drives significant finance and action into biodiversity protection, restoration and sustainable use worldwide.
Only then can the world hope to turn the tide on nature loss by 2030 and meet the goals of the ambitious global biodiversity agreements.
Read more:
Invest in nature for a fairer, safer world
WWF-back coalition wins UN human rights prize
Realising the promise of the SDGs relies on nature